Activities Gennadi - Prasonisi and Rhodes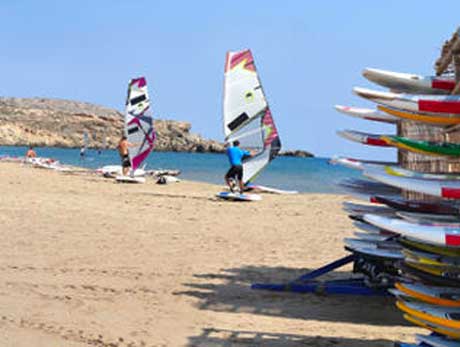 Prasonisi
Also knowed as the Paradise of surfers!! The Nature has made the perfect enviroment for Windsurfring and kitesurfring.There you can rent equipment ,beginner with teachers on your side or bring your own equipment and enjoy the turquise water,the sun and a lot of wind !!
Scuba Diving
You can scuba dive in Pefkos or Lindos waters ,that are near to our hotel. Their is no necessary of previous experience, you will have theoretical training at the dive centre with qualified istructors guidance.
After you can explode underwater life , beautiful rock formation and caverns.
Including free tranfer from the hotel to the diving center and back.Get free pictures for free.
Tsambica Monastery
The historical Byzantine church dedicated to Santa Maria.
The location is in a imposing rock which the only way to go is to follow 350 sters and see the breathtaking view.On your left the beach Tsambica with blue-green cristalliny waters. On your right forest and the center area of Rhodes.
For the locals is santuary, specially for the women and the locals which have her name with pride.
Tsambica is the Lady of the island, protector of the newborns and any woman having problems getting pregnant.
Horse riding (Apollakia)
An amazing experience were your best friend is a horse.The team is picking you up from our hotel in the morning and they take you to explore the landscape.The best part is that you are swimming with the horses, you learn intresting facts about Rhodes, after you are relaxing in a beach bar where you can take a cocktail and eat a greek local meal.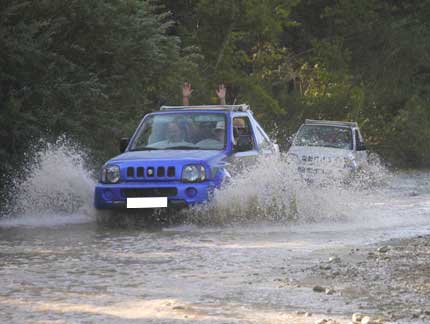 Jeep Safari Rhodes
Near to our area Bumpy Rhodes set up a safari of the North Coast.For familys and individuals, the team is helpful and passionate with knowledge of the island.You will see areas that even the locals do not know.You can take the safari with professionaldrive or self-driver.
After the tour you can lunch in a village with local products from Mother Nature.
Ancient Kamiros
There are remains of the first and rchest settlementon the island, destroyed after a earthquike and lost for long period of time.You can walk along the remains of houses,streets and let your imagination travel you to Ancient Greece.
Butterfly Valley
Is one of the most attractive destrinations on the island.During August thousands of butterfly of the genus Panaxia overwhelm the valleay in order to reproduse.
Sea Cruise
Enjoy special sea cruise of the East Coast, became one with the sea .Travel through the water and discover magnificent beaches such as Tsambika,Lindos,Afandou and of course Anthony Quinn Bay.
You can :Travel with boat to Simy,Xalki or Tilos Island .Small,beautifull tradicional islands.Walk around ,explore and understand the arcitecture, filosofi and life of Greek Islands. tavern for fresh fish,coffee and local products.